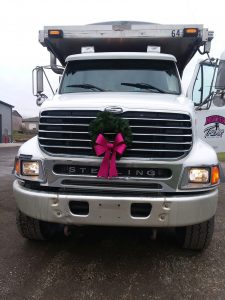 Bearing any load with grace and unwavering resilience, mothers are among the strongest people in the world. That's why the Youngstown area relies on MotherTrucker.
Built on a foundation of strength, perseverance and integrity, MotherTrucker is a full service trucking company run by a lady who knows how to get things done.
Able to provide reliable transport in all seasons, our services include hauling stone, dirt, asphalt, top soil, sand, gravel, lime, and everything in between. Our fleet includes tri- and quad-axles, both with steel bodies and steel beds for steadfast endurance and dependability.
If you're a contractor who's looking for a dependable, on-time trucking company with experienced drivers and a can-do attitude, look no further than MotherTrucker.
Give us a call and we'll be happy to help! 234.254.4448 or Email Us anytime!