Life is a highway . . . .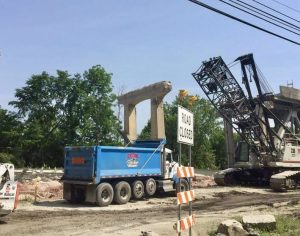 MotherTrucker is owned and operated by Sherri Bova, a hard-working woman entrepreneur with more than ten years of industry experience under her tool belt. In fact, her own experience in this largely male-dominated industry is what inspired her to establish MotherTrucker.
"I felt there was a need in this industry to have more women-run and women-owned businesses. Trucking was definitely an area that had room for growth," Sherri says. "And I had a lot of fun with the name!"
Much like Rosie the Riveter, a cultural icon who has stood for decades as a symbol for feminine strength and fortitude, Sherri built MotherTrucker on those very same principles. There is no job too large nor a load too heavy to carry: MotherTrucker can handle anything.
Located in the heart of Struthers, Ohio, MotherTrucker provides quality trucking services to NorthEastern Ohio and NorthWestern Pennsylvania.
MotherTrucker is certified as a Women's Business Enterprise by the Women's Business Enterprise National Council (WBENC), the nation's largest third-party certifier of businesses owned and operated by women. We recognize the commitment to supplier diversity that is embraced by corporations and government agencies today and we can add diversity to your supply chain.
We are also in the process of becoming an EDGE (Encouraging Diversity Growth and Equity) and WBE (Women's Business Enterprise) certified company.